ALLERSOL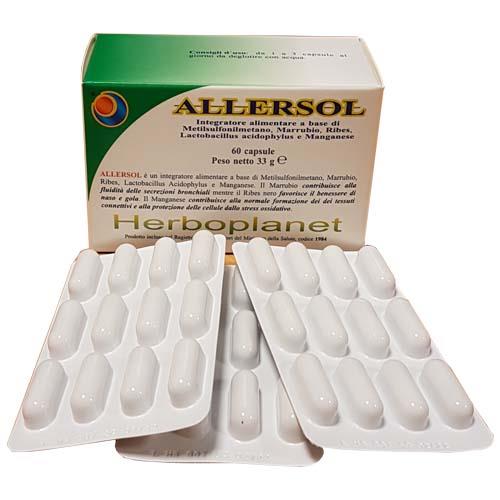 HERBAL COMPONENTS CONTENT FOR

3

CAPSULES
:
organic sulphur (
methyl sulphonyl methane
)
600
mg, White horehound wort (
marrubium vulgare
)
D.E.
3/1
leaves
375
mg, Blackcurrant (
Ribes nigrum
)
D.E.,
leaves
300
mg. Food gelatin. Lactobacillus acidophilus DSM24936
10
mg (
2.25
bilions of living cells
), Manganese Gluconate
8
mg (
bringing in manganese

2.85

mg
).
Anticakings: magnesium salts of fatty acids.
Product included in the Register of supplements of the Italian Health Ministry,
Code

113212
.
Product included in the Register of supplements of the French Health Ministry,
code
2016-7-542
.
Product included in the Register of supplements of the Belgian Health Ministry,
Code NUT/PL/AS
1653/29
.
ALLERSOL
is a food suplemet of methyl sulfonil methane, Lactobacillus acidophylus, Manganese and herbal ingredients that
provides a calming influence on the respiratory tract
.
SUGGESTIONS OF USE
: 3 tablets a day.
WARNINGS
: Keep out of reach of children under three years. Do not exceed the recommended daily dose. The productshould be used as a part of a varied and balanced diet and healthy lifestyle.
NOTES ON SOME PLANTS
:
METHYL SULPHONYL METHANE
is a natural source of organic sulfur, and its chemical formula is CH3SO2CH3. Sulfur is present within all living organisms in this form acting as a biologically active substance. M S M it is a white, crystalline odorless powder, highly soluble in water and in many kinds of organic solvents. Organic sulfur, biologically active, has incredible therapeutic and preventive properties
. It has got such a medicinal and all-round properties as well as based on so clear principles that its discovery is considered among the most important progresses in orthomolecular medicine on the second half of the twentieth century
. To get more about this, you can see the lecture notes
" the Methyl Sulphonyl Methane miracle".
WHITE HOREHOUND WORT
(
Marrubium vulgare
) contains diterpenic lactones, mucilage, pectins, flavonoids, mineral salts and essential oil. Going back to ancient times, W.H.W. was used against respiratory diseases. The greek physician
Discorides
(40-90 B.C.) raccomanded it to relieve symptoms of asthma and cough.
BLACKCURRANT
(
Ribes nigrum
)
buds
is the typical remedy for allergies. In its buds are many active and probably steroideal nature principles, they have got a cortical-like action.
LACTOBACILLUS ACIDOPHILUS
It protects and regenerates the intestinal bacterial flora, from where, some say, infectious process begins and doing so it maintains intestinal pH values around 4-5, preventing the growth of bacteria called "not good". These bacteria would otherwise grow on an environment with acid or alkaline pH.
MANGANESE Gluconate
is the trace element of diathesis (
allergic or arthritic
) and diathesis is where we can find symptoms such as
many kinds of allergic disorders
.
BIBLIOGRAPHY
:
- Fernando Piterà - "
Compendio di GEMMOTERAPIA CL
INICA" - De Ferrari Editor
- Ernesto Riva - "
L'universo delle PIANTE MEDICINALI trattato storico, botanico e farmacologico di 400 piante di tutto il mondo
" - Ghedina & Tassotti editori s.r.l. - Bassano del Grappa (VI), Maggio 1995.
- Tina Cecchini –
Enciclopedia delle erbe medicinali
, ………… - DE VECCHI EDITORE
- Padre Gianfranco Lazzari –
L'Erbario del Frate
– EDIZIONI S. MARCO LITOTIPO
- Alberto Fidi –
Erbe e Piante medicinali
- FRATELLI MELITA EDITORI
- AA.VV. –
Enciclopedia chimica
– USES ed., Firenze
- Benigni R., Capra C., Cattorini P.E. –
Piante medicinali: chimica, farmacologia e terapia
– Inverni della beffa ed, Milano.
- Duraffourd C., D'Ervicourt L., Lapraz J.C. –
Cahieres de Phytotérapie clinique
– Masson ed., Paris 1983
- Maugini E. –
Botanica farmaceutica
– CLUSF ed., Firenze 1976
- Pomini L. –
Erboristeria italiana
– Vitalità ed
- Valnet J., Duraffourd C., Lapraz J.C. –
Phytotérapie et aromatherapie
– Presse de la Renaissance, Paris 1978
- Massari E. –
Erbe in Cina
– Milano 1981
- Penso G. –
Piante medicinali nella terapia medica
– Org. Med. Farm. Ed., Milano
- Enrica Campanili –
Dizionario di fitoterapia e piante medicinali
– Tecniche Nuove - MI
- Max Tètau - "
Gemmoterapia nuovi studi clinici
" - NUOVA IPSA Editore srl - Palermo, 1989
- Larousse - "
Encyclopédie des PLANTES MÉDICINALES identification, préparations, so
ins" - Larousse-Bordas – 1997
- Tom Wilsons - "
Guarire con le erbe, i consigli, le malattie, le ricette, le dosi nella più ricca raccolta di erboristeria
" - Fratelli Melita Editori
- Dr. G. Fort - "
Guide de traitement par les plantes médicinales et phytocosmétologie, soins de beauté
" - Editions Heures de France - Paris, 1976
-- Dr. Frank MIRCE - "
Oligoelements et santé de l'homme
" – ANDRILLONHerschler, R.J.: Methylsulfonylmethane and Methods of Use. United States Patent 4,296,130: 1981.
Herschler, R.J.: Methylsulfonylmethane in Dietary Products. United States Patent 4,616,039: 1986.
Herschler, R.J.: Dietary Products and Uses Comprising Methylsulfonylmethane. Brevetto Statunitense 4.863.748: 1989.
Herschler, R.J.: MSM: a Nutrient for the Horse. Eq. Vet. Data, 1986.
Mindell, E.L.: The MSM Miracle. Enhance Your Health with Organic Sulfur. Good Health Guides, Keats Publishing, Inc, Connecticut, USA: 1997.
Ley, B.M.: The Forgotten Nutrient MSM: on Our Way Back to Health with Sulfur. Health Learning Handbooks, BL Publications, California: 1998.
Owen, B.: Ask Dr. Bob?? Why MSM?? Health Hope Publishing House, California, 1997
Jacob, S.W: The Current Status of MSM in Medicine. Am. Acad. Med. Prev., 1983.
Jacob, S.W. and Herschler, R.J.: Introductory Remarks: Dimethylsulfoxide after Twenty Years. Ann. N.Y. Acad. Sci.: 1983.
Moore, R.D. and Morton, J.I.: Diminished Inflamatory Joint Disease in Mice Ingesting Dimethylsulfoxide (DMSO) or Methylsulfonylmethane (MSM). Fed. of Am. Soc. for Exp. Biol., Atti del convegno per il 69° Anniversario. 1985: 692.
Richmond, V.L.: Incorporation of Methylsulfonylmethane into Guinea Pig sieroproteine. Life Sciences 1986, vol. 39, pp 263-268.
Morton, J.I. and Siegel, B.V.: Effects of Oral Dimethylsufoxide (DMSO) and Dimethylsulfone (MSM) on Murine Autoimmune Lymphoproliferative Disease. Proc. Of the Soc. for Exper. Bio. and Med. 1986, vol. 183, pp. 227-230.
---